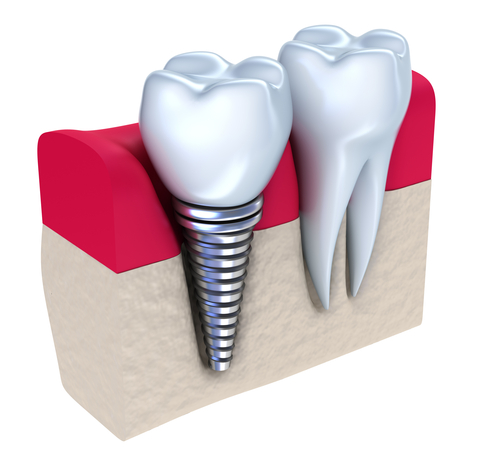 Dental implants are a modern dental procedure that provides replacement teeth, support for the jaw and helps you maintain that beautiful smile.
Before dental implants came along, the only viable way to replace lost teeth was a bridge or dentures. While both have their place, they are not as comfortable and involved invasive dental procedures to fit. Dental implants allow a fairly simple solution to quite a complex problem.
What are dental implants?
A dental implant is made up of a titanium post that is inserted into the jaw to replace the root of the tooth. A restoration is then fitted on top of the post to exactly fit the hole left by the missing tooth. Dental implants can replace single or multiple missing teeth.
How are dental implants installed?
One of the main benefits of dental implants is that the procedure is much less invasive than the alternatives.
The dental procedure is usually performed under local anesthetic. We first prepare  the jaw to provide a hole for the implant. Then we fit the implant into place and stitch the gum around the site. We have to then let the bone heal and fuse with the implant and the let gum heal.
Once healed, you have a few options. You can have a crown to replace a single tooth, bridge to replace several missing teeth or dentures to replace a range of missing teeth. We can discuss the best course of action with you at the time.
The procedure to fit the implant doesn't take very long at all. It's also pain-free thanks to the anesthetic. The site may take between three and six months to heal properly before we can fit the restoration, which is the only delay in the entire procedure.
Why choose dental implants?
Aside from the obvious benefit of having a long-lasting replacement for a missing tooth, dental implants offer some compelling advantages. The procedure is very focused and doesn't damage surrounding teeth or bone. Neither does it need us to modify healthy teeth to fit.
The implant also reduces bone reduction around the site of the tooth and an implant can be used in exactly the same way as a real tooth. Bite strength is retained and the implant can wear with your other teeth as you age, providing a comfortable, semi-permanent replacement for a real tooth.
The procedure itself causes very little discomfort, heals quickly and allows you to carry on life as normal almost right away. The bone takes a while to fuse to the implant, but that's the only reason the procedure takes so long to complete.
If you have missing teeth or would like a long-lasting solution to a temporary fixture, visit us today at Aesthetic Family Dentistry. We're here to help!